I hope everyone had a nice Mother's Day!
Us? We were in the throes of baby flu all weekend: high fever, snot, throwing up, the works. But luckily Little G is on the mend, and took a trip out with daddy today on his day off. Look how big she's getting!
 Thanks to Auntie Diana and Uncle Brian for my awesome Georgia onesie:)
I've got major spring fever now that it's warm out finally. Who can work in an office under these conditions? I just want to go get a pedicure, apply some self-tanner and sit outside reading. 
Naturally, I'm obsessed with warm-weather clothes, and in particular I am dying to go shoe shopping. How beautiful are these from JCrew: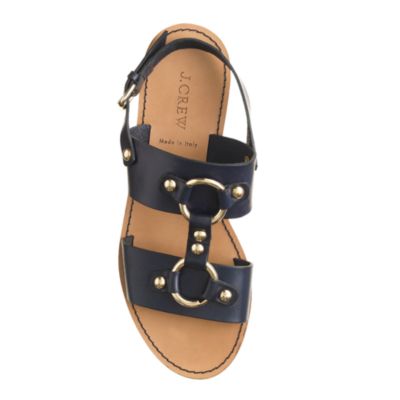 I also just picked up this one piece bathing suit from Old Navy, which I just love. Can't wait for a beach day:
I also discovered a new website that I'm a fan of for buying hard-to-find makeup. It's called Beautylish. I almost had a meltdown last week when it seemed as if Korres had discontinued its mineral makeup line (which I can't live without). Sephora stopped carrying it, and the sales rep in the Burlington store told me the entire makeup line was no longer being made. MERDE!
Thankfully, it's not true. It's just that Sephora is no longer carrying it! I asked @KorresUSA about the rumor and they reassured me their natural line of cosmetics is still being made, so I ordered two packages of the Wild Rose foundation just to be safe. If you're interested in their environmentally-friendly, plant-based, certified organic product line, I also love their anti-aging primer (which comes in a matte version as well), refreshing pomegranate cleansing wipes and petrolatum-free lip butters.
Fellow mamas who lost a lot of hair postpartum, I'm wondering: did you ever try Living Proof hair products, which claim to have some special science behind them? They were developed at MIT and some people swear by them. I got a sample recently and I'm not so sure I'm sold, but I'm willing to try anything for my still-thinning locks. I only tried the shampoo and conditioner, so I may try some styling products as well and see what I think.
Finally, on a less superficial note, I read about an inspiring crowd-funding platform called Kangu, which provides newborn care and a safe birth for women who lack access to adequate healthcare. Get matched with a mama and baby and potentially save a life. In addition to high-quality healthcare for the mom, you can also donate toward immunizations for the wee ones.
Have a wonderful week everyone 🙂